Contenido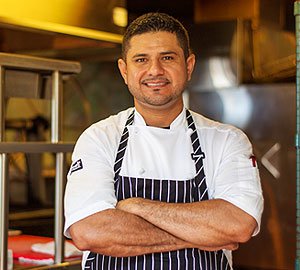 Ricardo Hernandez Martinez
Turtle Kraals' Executive Chef
Turtle Kraals' executive chef Ricardo Hernandez Martinez has always loved cooking. Working as a young server and bartender while still in school, his eye was always on the kitchen. That's where he wanted to be.
He now has access to the best fish in town in creating a new ceviche menu accented by organic herbs grown on-site. Since the Mexico City native arrived in Key West more than a decade ago, he helped open Sandy's Café and worked in the kitchens of Banana Café and Nine One Five.
Hernandez Martinez stays busy developing
Latin-American and Mayan-influenced dishes
and
selecting the day's catch from the neighboring Half Shell Fish Market,
but if you can catch him on a day off at the soccer field or the beach, ask him about La Vie en Noir in the Yucatan region of Mexico. His face will light up in telling you about working at the restaurant, one of several around the world where dinner is served in the dark.
Turtle Kraals' open-air dining room and Tower Bar might be flooded with sunshine reflecting off the water, but some things remain the same wherever Hernandez Martinez goes: he's always excited by the challenge of creating an unforgettable multi-sensory dining experience.