Contenido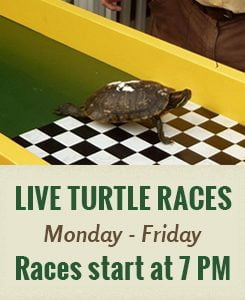 Slow and steady wins the race
Key West Turtle Races at Turtle Kraals
This seems to be the mantra of eclectic Key West and its relaxed island lifestyle. See it come to life at our legendary twice-weekly Turtle Races, inspired by the historic Bahamian pastime and beginning at 7 p.m. sharp (in season) Monday through Friday at Turtle Kraals.*
Come for happy hour, and starting at 4:30, grab a free numbered ticket from the bartender or Turtle Master Clark Whitt. Then gather to watch four box turtles scurry from start to finish, buoyed along by whoops and hollers from a crowd of kids and adults. Whitt, a born performer whose turtle emcee skills were once featured on an episode of Comedy Central's Insomniac with Dave Attell, encourages them all the way. If you're among the one in four people with a winning number – if your ticket number matches the number painted in tape on the back of the winning turtle, that is – pick a key at random from Whitt's selection, hope it's your lucky day, and take your turn at opening a treasure box with a cash prize inside. With a pot that goes up $50 a week until a winning key-holder talks all, the prize can reach up to $500.
*Do to the summer heat, please call the restaurant for Turtle Race summer hours.

Follow Turtle Kraals on Facebook for updates, and get ready to celebrate with cold sunset drinks at our Tower Bar once you win big!