PLAN YOUR EVENT TODAY!
Looking for the ultimate Caribbean-inspired setting for a wedding reception, birthday gathering or private party? Turtle Kraals Bar & Restaurant, situated on the water in the heart of the historic Key West seaport, is the ideal venue for indoor or outdoor events. Our fresh cuisine, inspired by the best of the tropics from Cuba to the Bahamas, is highlighted by ceviche sourced daily from our own Half Shell Fish Market. The 4,000+ square-foot restaurant and bar can comfortably host up to 200 guests for special events.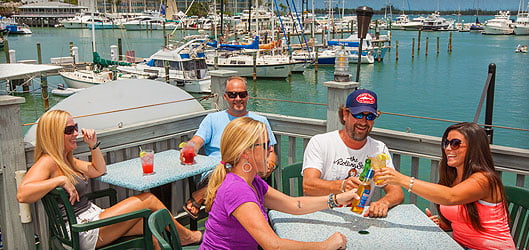 OUTDOOR VENUE
From our open-air scenic rooftop Tower Bar, you can enjoy a panoramic view of the breathtaking sunset over the Key West Harbor. The Tower Bar seats 70 guests for private parties and special events. The expansive bar is fully stocked, and a stage for live music and toastings is available. From customized party menus to complimentary bocce courts, we are happy to work with you to create your ideal event.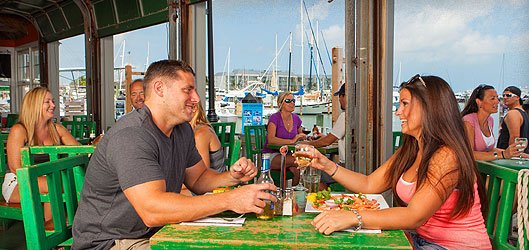 INDOOR VENUE
Our air-conditioned indoor dining room, complete with a fully stocked bar, can be customized to fit your specific theme. The main dining room comfortably seats 140 guests. With years of experience planning and executing one-of-a-kind wedding receptions and other private parties, our goal is to meet and exceed your expectations.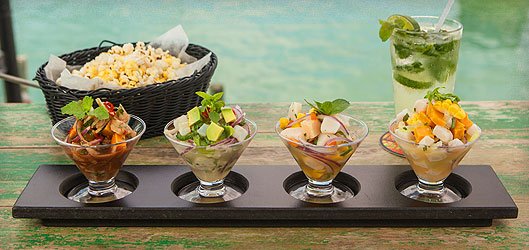 Culinary Perfection for Your Special Event
Our world-class chefs will prepare amazing party menus with innovative cuisine featuring fresh, natural ingredients to delight your guests. Turtle Kraals' culinary team, led by culinary director and chef-to-the-stars Michael Schultz and executive chef Ricardo Hernandez, will work with you in creating a one-of-a-kind dining experience to please everyone. We offer customized menus reflecting a colorful mix of food and culture for any type of event or dietary need. All that you and your guests are required to do is show up and have a great time!
Reviews
"Brilliant wedding reception" ★ ★ ★ ★ ★
We held our wedding reception at the Tower bar of Turtle Kraals at the end of March this year. The food, staff, atmosphere and location were all superb. The night was very well organized and all our guests had a wonderful time. Huge thanks should go to the event manager, Robet Jacoby. My husband and I highly recommend this location for a wedding reception.
– Tigercraft via TripAdvisor
"Brilliant wedding reception" ★ ★ ★ ★ ★
I had my daughter's wedding reception at the tower bar buffet style with passed hors devours. The entrees were incredible with great quality and generous portions. The wait staff were attentive to our every need and really made us feel special The general manager David Thibault was present and serving our guests along his staff throughout the whole night The executive Chef, Michael Schultz, delivered what he promised and all of our guests complimented the quality of the food. The Peruvian ceviche and bacon wrapped dates were amazing I'm so happy with our choi8ced to spend such a special night in the care and company of such a great restaurant staff. I would recommend Turtle Kraals to anyone.
– Enite via TripAdvisor
"Great Restaurant!!" ★ ★ ★ ★ ★
Everything was great…. We sat upstairs and the view was incredible… our server Nick was the best. very attentive friendly knowledgeable our drinks were always filled. Thanks we will definitely be back!!!
– LeslieW via TripAdvisor
"Ceviche bar! Fresh ingredients, delicious options."
"★ ★ ★ ★ ★
So that isn't all Turtle Kraals has to offer, but it was outstanding! there is a menu just for the ceviche with about 10-12 options to choose from. It is Made from fresh caught fish, garden grown herbs and right in front of your eyes. We ordered one of the flights so that we could enjoy four options and we were not disappointed. Hogfish, scallops, yellow fin and yellowtail, all with different herbs and different bases. If you like eating by the water, you'll enjoy it here as well. Lots of good people watching. Knowledgeable staff and friendly service. Will stop here again on our next trip!
– Colleen B via TripAdvisor